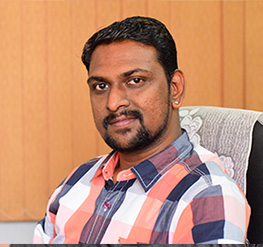 Gokul Ashok
DIRECTORS PROFILE
Mr. Gokul Ashok, the Director of the Company, has more than a decade of experience in the Animation and multimedia sector. He has been associated with the Company since its inception in 2007. He is responsible for the overall working of the Company and is instrumental in making strategic decisions for the Company. He is also a member of the Board of studies of the JSS college, Mysore.
DIRECTORS MESSAGE
Since our inception in 2007, Cstop Animation Academy has helped thousands of students like yourself enter many of the best studios. From the second you get in touch until the day you enroll, our unconditional support to students has led to a 98% success rate in gaining enrolment into our academy. Our specially trained application consultants are on hand throughout the process, as we seek the most suitable options for your future academic objectives. We believe every student is unique, coming from different academic, cultural and social backgrounds. Our service is designed accordingly, individually tailored to you so we can ensure the success of the support we provide.
On behalf of the entire team at Cstop Animation Academy, we would like to wish you every success in your goal of applying to and entering the production studio of your dreams. It is our mission, and pleasure, to assist you in achieving this.
Gokul Ashok
Director
Cstop Animation Academy